Hello Everyone! In this video, we'll be
looking at my desk setup. I'm pretty sure you might be working
from home these days. I'm also working from home, and initially, when I started I
was facing a lot of challenges. Later I realized that okay, the one most important
thing you need, to work from home, is a good workspace with all the necessary
gears that you need to work. So in this video we'll go through my desk set up
and we'll take a tour and see how it can help.
The most important thing about a desk
set up, or a workplace, is desk and chair. I have this IKEA table which has dark brown LINNMON
table top of size 24 x 48 inch. This tabletop is standing on ADILS legs.
Overall it costed me around $40. I'm having this table since last three years
and it's still going strong. Another very important thing that you spend
your time on, is a chair. You should have a very comfortable chair.
I have this Millberget chair from IKEA. It's a decently comfortable chair. You
can adjust height if you want to, but it doesn't have any adjustability in terms
of back and armrests. It's economical, it is around $70 on IKEA website and it
is still available. You can buy this chair but if you are facing back pain or
you need back adjustability then this chair is not for you. Next very important thing on a
desk is Monitor.
I have Dell 27-inch monitor, model is P2720DC. It's having one HDMI port, one display port IN, display port OUT. Main
thing is it's having one USB C port. USB C port you can use to extend your laptop,
you can also use it to charge your laptop as well. I got it for $390 and it's QHD, it's like 2500 by 1400. It's really nice and I think it's
perfect for someone who is working from home. It's highly adjustable in
terms of height, in terms of rotation. Now, what's connected to my monitor is
Lenovo 720 yoga. This particular laptop is having Intel i7 core 7700 HQ
processor, which is quad core, which can act as an octa-core. It's having 512 SSD
and 16 Gigs of RAM. This laptop is 4k. I got it for around $1400. The only problem
with this laptop is the edge the bottom. Whenever you try to type, here, it
leads to pain in some time.
Apart from that, it's like really good laptop.
It's having JBL speakers and really advanced NVIDIA graphic card. I am
keeping this laptop on a laptop stand. This is what I bought from Amazon. It was
$25. This is really compact, it goes in my backpack, and you can extend it, and it's
having different levels of height adjustability. You can adjust it the way
you want. I think it can be used with size range from 13-inch to 17-inch. This is really good thing, that cost me around $25. Next item on my desk is Logitech MX keys keyboard. It's very nice piece of art. It's having
three different buttons which you can use to directly connect to three
different devices at a time. And just by one click on these buttons, you can connect to
any device you want. This comes with USB C charging, that goes from almost 10 days to 6
months without charging. It's having backlight as well as proximity sensor.
Next item on my desk is this Logitech MX palm-rest.
This is nice memory foam with rubbery texture.
It costed me $20 and I think
it's good but not life-changing. If you want. you can buy this one from Amazon
otherwise you can skip this. So either you would spend your time on keyboard or you'd spend your time on a mouse. So you definitely need a nice mouse. The one I have is Logitech MX Master 3 mouse.
This is highly configurable. It's having a horizontal scroll wheel and it is USB C
charging.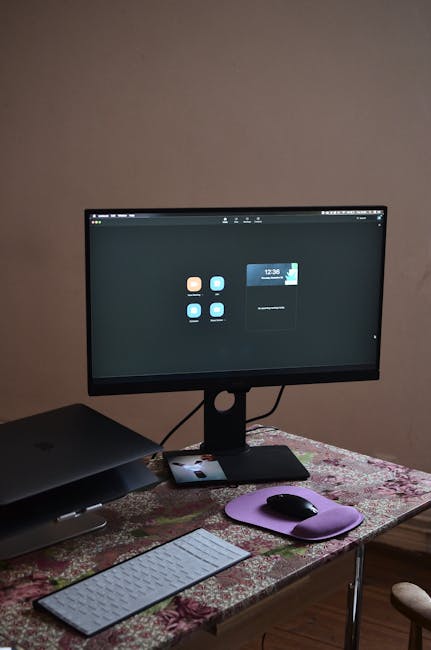 They have ball bearing technology for this scroll wheel and you can
change mode from ratchet mode to smooth mode. You have a gesture button here which you use to go into the the gesture mode, and then you can use it.
It's also having forward button and back button which are also customizable. You
can use them to browse web pages or you can use them to configure page up or page down depending upon the application. What I also have is the
Samsung wireless charger on my desk. I bought this charger in 2018 with my Samsung S9
plus. It's a nice charger, very nice looks and it costed me around $50. I like
wireless chargers. It's like I don't have to plug my phone in and plug off so I
use it often whenever I am on a desk. I want to keep my phone charged for having
meetings, so I frequently use this charger. Everything on my desk is resting on a leather mat.
I got it from Amazon.
It costed me around $25. I like the texture of this mat, and
also like the color of this mat. It's dark-brown and it really goes with all the
devices out there on my desk. I don't have a speaker on my desk because I have
Google Home. Whenever I want to play music what I do is I connect my laptop with my
Google Home using Bluetooth to kind of play songs. Speaker is really nice and I can use
this device to control lighting and to control other smart devices in my home. One of the most important thing on a desk is lighting. So
for that, I have this lamp. It costed me under five dollars and it's having three
brightness levels. Whenever I want to focus and I want to work in isolation on something something
which is very intense, I turn on this lamp and turn off every other light.
This helps me focus on my work
I think it's good lamp for that price. I might upgrade this in future but I
think I'm happy with this right now. I do have my office laptop on the same desk which is connected to this
docking station and this docking station is connected to the monitor. This keyboard and mouse from my desk is also connected to the same laptop, and this
helps me stay productive during my working hours. Last but not the least, these tiny
plants. They really give a nice aesthetic touch on my desk.
These are gifted so I'm not sure about the pricing point, but I like them on my
desk. The best thing about them is you don't have to water them every day. They
can stay fresh. So this was all about my workspace.
If you think I can add
something to my workspace, do let me know If you liked this video, give it a thumbs
up. If you don't like, give it a thumbs down and do let me know why you don't
like anything in this tour, in comments. And, see you the next video, Stay Home Stay Safe.
Thank you so much..