(upbeat music) – What's up my friends Mike again, glad to have you guys back. In this video, I'm going to go
over my ultimate dream setup version two. So it's been awhile since
I shared my desk setup here on YouTube, but after
nine months of testing which products and
configurations work best, I'm super excited to share with you guys, the key changes that I made to this space that works for my needs as a full-time content creator
on YouTube and Instagram. So hopefully this video will
give you guys some good ideas and inspiration to improve
your setup as well. Also, if you guys want
to support the channel remember to like, and subscribe
as that really helps me out and without further ado, let's
get right into the video.
So in my last setup, I had
all the essentials I wanted but it was a bit cluttered because I had all the
computer hardware on my desk. So the first major change I had to make was to upgrade my desk with
accessories from Grovemade. I'm still using the same
electric standing desk by Autonomous. I've been using it for almost a year now. The motor and the electric
components has been great. As you might know, I use this table for all my product shots on YouTube. So having it move up and down quickly it helps a lot to speed
up my filming process.
To make the desk even better I added a large desk
mat to cover up the desk because the desktop underneath
had a lot of scratches on it. This has a really nice
matte texture finish to it. So it was really good at
hiding all my fingerprints, smudges and dust. So I'm really happy
with how this worked out 'cause I rarely have to clean it now and it gives my desk a very
new and modern look as well. And the next item on your
list is this wool desk mat that I'm using for my mouse and keyboard.
As you see, it's quite long. So it's useful to place
additional stuff on it, like my headphones,
phone, iPad or my notepad. It's really convenient
because when I'm sitting in a slight different position I can just shift the entire mat and everything moves together keeping my items still organized. and in the same angle that I wanted. The wool material also has
a lot of texture to it. So it works great as a mouse pad as well because it feels good on my hands. Moving along, the next thing that I added was this desk shelf. This is one of the most
important additions to my desk. The Walnut top gives it a
very natural and warm look to the desk and really
elevates my entire setup. As for a function, the shelf
can act as a speaker stand keeping my speakers at a
higher level, close to my ears. I can lean my iPad on it. So it's like an iPad stand as well. And it also has a lot of
compartments for storage. On the right-hand side, there's a sliding tray that
houses all my essentials.
I can also hide the keyboard
underneath the shelf so that I can free up
more space for other uses. So using this shelf is great because I can access a lot
of things at arms reach. And on the other side, my Mac mini is also hidden well underneath the shelf. So it hides all the cables
and wired mess behind it. And moving along, let's
talk about the new tech that's on the desk. For the monitor, I've been using a 34 inch
ultra wide monitor by BenQ. This is specifically designed
for digital content creators. It has a lot of useful color profiles and it comes with a super adjustable stand and a built-in KVM switch.
This allows me to switch
between different computers without needing to unplug my
mouse, keyboard and speakers which is super useful. Anyways, I love the ultra wide screen. It's like having two screens in one, is also super useful using
three windows as well, when I'm researching,
scripting or editing videos. And to achieve a cleaner
floating screen, kind of look I've mounted the monitor on
a monitor arm by Autonomous. It works great because
it can hold the weight of this ultra wide screen and I can easily adjust the
screen to move farther back or closer to my face. And as you can see on the monitor arm this is where I mount multiple
lights and my cables as well which I'll be showing you guys
how I do my cable management in just a bit. And by the way, I am using
the BenQ Screenbar Plus on my monitor. When I turn it on, it highlights the wood on the desk shelf and it provides a lot
of light for me to read. So I love how this light
doesn't take up any space at all and it just makes my entire setup glow.
As for speakers, I'm
using the iLoud Micro. I use this for video editing a lot and the sound is super accurate for me to monitor my audio levels. It's also got a lot of
settings on the back to fine tune the sound and they even have a built-in kickstand to get it to the perfect angle. And since getting these speakers I don't really use
headphones for editing videos but when I don't want to
disturb my wife sleeping in the other room, I've
been using the Drop Pandas and they're definitely the best
sounding wireless headphones that I've tested so far.
So the headphones are placed on this beautiful headphones stand that's made of solid Walnut and steel to match my desk shelf. Again, it's made by Grovemade, it's a super premium looking stand. So it's really nice to have eye candy close by to keep me motivated. And moving on to peripherals, I'm still using the same
Logitech Q502 for gaming and the Ergo MX for video editing. The new upgrade here will be the keyboard. I'm using the Logitech
wireless mechanical keyboard or the blue clicky switches.
And man typing on this is so satisfying because it's more clicking
than clacking sounds. The keyboard's wireless
connection has been great with my Mac mini and since my iPad is usually
right in front of me as well, I love how I can easily
switch to typing on my iPad just by connecting it
through the Bluetooth mode on the keyboard. Also, I'm still using the same wrist rest that I got on Amazon by Sanwa. I still think it's super comfortable because the material is
super soft and flexible and it's very easy to wipe off
the sweat and keep it clean from my sweaty hands. For charging and organization, I have shelves on both
sides and this is done so that I can kind of expand
the length of my desk. So on the left on top of my file cabinet, I have my wireless charger and it's placed so that it's an arms
reach and it's very easy to just place my phone there
and have it off the desk. I really liked this charger because it can charge up to three devices and it actually uses an algorithm to find your device's charging coil so that you can place it anywhere and it will just simply work.
And as for wired charging,
I actually drill the hole into the back of the Ikea Alex Drawer and put into this Satechi desktop charger so that when I pull the drawer out everything is neatly
gathered in one place. And this is really nice because it hides all the
wires and cables and devices. And I don't need extra desk space to wait for things to charge. On top of the drawer, I have this little accessory box where I keep my frequently
used things on top so I can grab it very quickly. It also has a little drawer for my everyday carry stuff as well. And moving onto ergonomics, as a content creator, I work a lot at the desk
sitting like eight to 10 a day. So ergonomics is really important
to me to keep me healthy. And there are two major
additions in this area. Right now I'm using the
Herman Miller Embody chair. It's really good for your back if you like sitting in
a more reclined position and it also gives you a lot of flexibility in how you sit, you can move around in it, you can stretch and you
can sit cross legged in it because of its flexible back
rest and soft foam seat.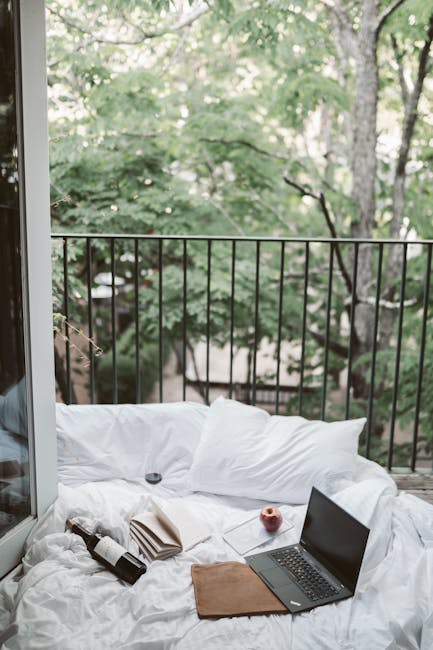 Besides the ergonomics, I just love how incredible
this chair looks. The fancy design with the
black and blue color schemes really matches my setup. It also makes the entire space look more like a battle station. So sometimes when I'm sitting in it I feel like I'm in the
pilot seat of a Gundam. And next I get a ton of
questions about this product. It's a foot rest from Humanscale. It's the best one that I've ever used because I can actually move it around, rock my foot forwards and back to find the best position
every time I use it. And to make this even
better, I put the foot rest on top of a mat, which I
put little felts underneath. So when I got to move my foot rest I can just quickly slide it with my foot. So that's a little neat
trick right there for you. Remember to like and subscribe. and onto the cable management. So this is something I
get asked a lot as well.
So the trick to all of this is to just not be able to see any cables when you're looking at
your setup in the front. The most important thing to note is that with a standing desk, you only want one cable coming
out to the power socket. So that's why using a
long extension power cable is really important. So to do this I, to work
with the monitor first. I had most of the cables along
the back of the monitor arm and under the desk, I'm
using a long metal cable tray from Autonomous that's made
specifically for this desk. After I plugged everything in I just stuffed all the extra
cables inside that tray. And as we're finishing touches, I've used extra cable ties
to bunch up the loose wires that I see here and there
to get a cleaner look.
So just keep in mind that it doesn't have to
look perfect from the back but just to make sure that
they're hidden well and nice that you can't see it from the front. I also stuffed the extra length
of the extension power cable in the tray and left just enough for the desks to move freely up and down. So most of the cable length is hidden by that cabinet anyways. So I think this is the simplest way to get the cleanest look. So this is something you
haven't worked on yet, is definitely worth investing,
the 10 or 20 minutes to hide your cables. I think is gonna make a massive
improvement for most setups. And next to add more
personality to the room, I added posters on my favorite things. I have one of Tokyo Japan, it's
my favorite place on earth. And I have another poster of Demon Slayer. It's like one of my favorite animations that you can watch on Netflix. These are actually metal
posters from Displate. They are magnetic. So installing it was super easy. All I had to do was
install the magnet stickers on the wall and simply
just stick the posters on.
I love this installation process because I can get the frames to the perfect angle without much fuss. And it's also super secure. I'm pretty surprised that magnets can hold up the weight of these metal frames. Then added bonus here is that
when my standing desk goes up, you can actually see
the light shining on it and it gives the posters
more color, more vibrancy and kind of brings it to life. And next to make the space
look more like a studio, I used the same panels
from our previous setup. This time I added a lot
more and I really like it because it gives my setup a distinct look especially with my RGB
lights shining against it because it absorbs the colors very well. Also, I think it's very important and let you guys know
that the foam looks better than it works at reducing
echo in the room.
So I added a carpet which turned out to be more useful than the foam, and it's great using it
with my rolling chair. And moving on to lighting, the
light fixture that I'm using on the right is just the
one that you find out Ikea. If you followed me from the beginning, this is actually the yellow one that I've been using back then. I actually just spray painted a gray to match the overall theme
and I think it looks awesome. Inside, I am using a Lifx bulb. I have another one tied to the monitor arm behind the monitor. I also stuck some Phillips hue play lights on the sides of the monitor to add some extra glow on the side. I'm very happy with this light setup because I can drastically
change the theme of the desk from a very simple, focused
white theme for productive work or I can make it epic for
gaming on my YouTube background just by using my voice command.
To add more of a tech look, grid studio sent the iPhone 4S frame over. It's actually the phone,
which has been disassembled and put together very artistically. It's a very beautiful product. They even printed my logo on it and that adds such a personal
touch to their frame. It's just so beautiful and
I love what they're doing with recycling old products
and making it look great. So this product is just a
perfect addition for the room for a tech content creator like me.
As for my computer, I'm
still using my Mac mini setup with the same eGPU and external storage. I've put the specs on the screen. There are two little
improvements that I made with the configuration. The first design I've been able to move most of it off the desk using Longer Thunder Bolt 3 Cables so that the desk space is less cluttered. The second upgrade would
be using this portable SSD drive to edit videos. The write and read speeds are super fast so I can edit 4K videos
with no problems at all. So this setup took me like
nine months to figure out.
I tried configuring my desk in all four corners of the room, but this is the one that
I ended up liking the most and is most satisfied with. I don't know why I do that, I maybe I'm weird, but
if you like moving things around all the time too,
comment below, let me know. And by the way, I added links
to everything that I mentioned in this video, in the description below. So you can easily find them for yourself. So anyways, I'm really
into designing desk setups because I really believe
that a space helps a person to think and function. So it was definitely worth
the investment for me to create an environment that's
enjoyable for me to be in and allows me to do what
I usually do, but better. And I'm still learning about
space design and all of that. But you have any questions
at all, please comment below. I'd love to help you guys out. Also, if you want to see my
previous desk setup video and see what it was like
before, click over here.
And as for future content,
I am gonna make a lot more about the setups and accessories
and tech and all that. So if you like this video
remember to like and subscribe with the notification bell on to get the latest updates
about my channel from YouTube. And that's it for now guys. Thank you so much for watching and I'll see you in the very next video. Bye. (upbeat music).